Griffin Electric's Charlotte Region Wiring New Pineville Town Hall & Library
August 26, 2021
Holliston, MA (August 2021). Wayne J. Griffin Electric, Inc. (Griffin Electric), a leading electrical subcontractor throughout New England and the Southeast for over four decades, is currently providing electrical and telecommunications installation work on a new Town Hall and Library in Pineville, NC. Construction for the two-story, 43,088-sf project is expected to be completed in the Summer of 2022.
The Mecklenburg County Library will be located on the first floor of the facility and will be the only public library within Pineville's town limits. The top floor will include office space for town services, a 2,000-sf council chamber, as well as a main data / server room. The entryway of the new building will also include a shared two-story lobby.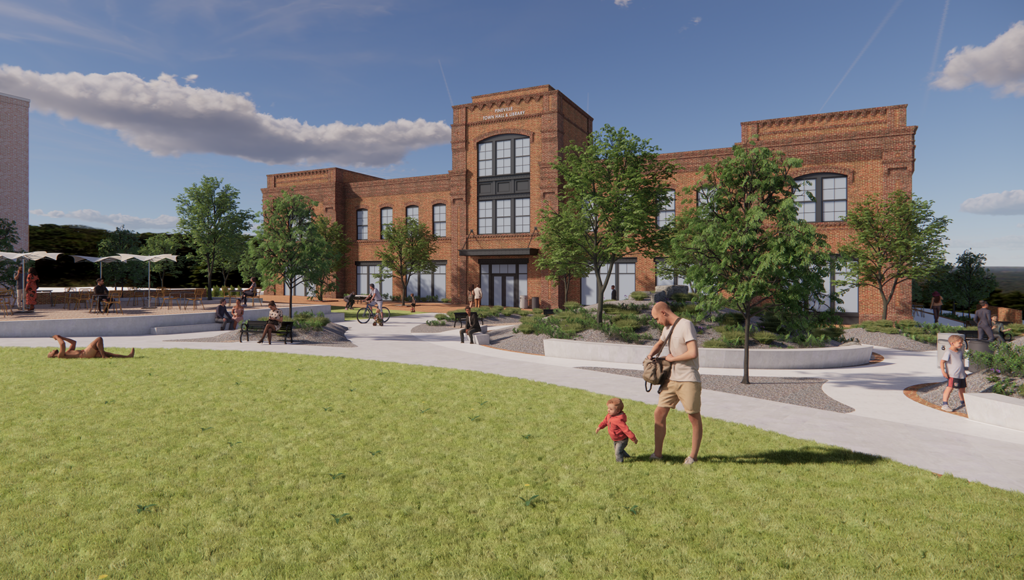 Under the direction of Region Manager Tim Passatore, the Charlotte Griffin team is responsible for the installation of lighting fixtures, occupancy sensors, and branch circuit wiring to provide a complete lighting system on-site. Griffin Electric is also tasked with installing a complete lightning protection system, complete fire alarm and elevator lobby two-way communication system, as well as wiring for distribution equipment and a 300 kW back-up generator. The building's telecommunications systems, security systems, and audio / visual equipment will be furnished and installed by Griffin's telecom division, which is led by Keith Sanborn, Telecommunications Division Manager.
Griffin Electric is a subcontractor to the Construction Manager at Risk, Edifice LLC of Charlotte. Other project members are Creech & Associates, PLLC and CMTA, both of Charlotte, who are serving as the architect and the electrical engineer, respectively.
About Wayne J. Griffin Electric, Inc.
In the electrical contracting business since 1978, Wayne J. Griffin Electric, Inc. has proudly served on projects in a range of markets throughout New England and Southeast for over four decades. Headquartered in Holliston, MA, the company also has regional offices in Pelham, AL, Duluth, GA, Charlotte, NC and Raleigh-Durham, NC. ENR (Engineering News-Record) ranked Griffin Electric 27th in its 2020 listing of the top 50 national electrical contractors and 1st among electrical contractors in New England. The company employs nearly 1500 individuals. For more information, please visit www.waynejgriffinelectric.com.
###